Sett Blatter: 'There Is No Racism In Ireland.'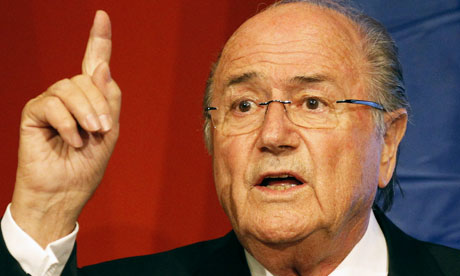 FIFA President Sett Batter told Waterford Whispers News today that 'there is no racism in Ireland and Mr. Scully should just shake hands with members of the black community'.
The 75-year-old was flown into Dublin airport this morning on a government jet before being whisked off to Naas in a cavalcade of totally awesome cars with tinted windows.
Later this afternoon he will meet the remaining members of the town council and advise them how to deal with the current crisis.
The Swiss football administrator was contacted late last night by Taoiseach Enda Kenny in a bold bid to relieve racial tensions in the Kildare capital.
At a press conference in the Osprey Hotel, Mr. Blatter told awaiting media he was on a mission to 'stamp out rumours of racism' across the world.
"When I heard yesterdays news, I could not help but feel sorry for the black community in Ireland."
"It is so easy to take things out of context these days."
"People just need to shake hands with each other more. If I was Mr Scully, that's what I would do. I'd shake hands with all the black people in the country and say sorry." he added.
Former mayor Darren Scully was not present at the press conference earlier.
On a radio show yesterday afternoon, the Naasist politician publically refused to represent 'black Afrians' who lived in the town, leaving an already tarnished Fine Gael close to tears.
However, a WWN poll can reveal a sharp increase in support for the party in the west of the country.
Support from 'Taxi drivers' and 'white South-Africans' has also doubled since yesterdays revelation.