Oh Amal! Mrs. Clooneys 5 Worst Fashion Disasters
SHE'S got the looks, she's got the cash, she's got the husband, so why does Amal Clooney go out dressed like garbage so often? The scintillating wife of Hollywood legend George Clooney has pulled some major faux pas when stepping out over the years, and we at Gash are here to show you her Top 5 fashion disasters!
1) Oh dear! We can't begin to tell Amal just how much is wrong with this outfit, which she wore this week to the European Court of Human Rights during a trial against a Turkish politician who denied the existence of an Armenian genocide 100 years ago.  The solid black colouring of the material, combined with the baggy shapelessness of the whole ensemble… to make matters worse, her gorgeous Lebanese skin tones are washed out by that ghastly white collar and bow. It's clear that Mrs. Clooney hasn't got the hang of dressing for the press just yet! Sort your wife out, George!
2) The only thing worse than being spotted wearing a ghastly outfit, is being spotted wearing the SAME ghastly ouftit more than once! Amal honey, you've got to expand your wardrobe! This kinda thing might have been ok when you were adviser to Special Envoy Kofi Annan on Syria, but not now you're someones wife! Start spending some of your hubbies cash; you've earned it!
3) This full-length shot from last year when Amal was selected for the UN's three-member commission to look into possible violations of the rules of war in the Gaza Strip show her in a similar black number, and again does nothing for those luscious curves. Perhaps Mrs. Dr. Doug Ross is trying to hide something with these baggy full length gowns? Could there be a baby bump that we aren't hearing about? Amal isn't getting any younger, so perhaps she and George have decided to get pregnant before her time as a useful, fertile woman draws to a close!
4) Another dreadful outfit is made even worse by Amal's choice of purse… she hasn't got one! Accessorising isn't her strong point, in fact we're wondering what is! All that clutter in her hands isn't becoming of the wife of Hollywood royalty. Check out the rock on her finger though! You go, Amal! Get yours!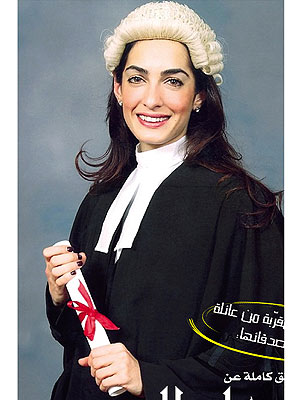 5) The dress that launched a thousand fashion police squad cars, here's the first known photo of Amal in what has become her trademark outfit, before she sunk those black fingernails into George and snared herself one of the most sought-after men on the planet. She'd better watch out though… if she keeps going out dressed like wet garbage, she might find herself back on the shelf with all the other women who don't know how to dress properly! Don't say we didn't warn you, hun!